Cybersecurity Awareness and Prevention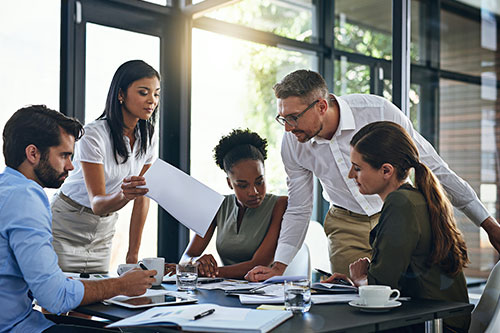 Understanding today's threats helps protect your business
You already know that online threats like ransomware, phishing attacks, and social engineering schemes are becoming more sophisticated than ever. But did you know that small businesses pay an average of $117,000 to recover from a data breach?
This is no surprise as approximately 200,000 new malware samples were captured each day from July to September of 2016. Worse still, small businesses like yours are prime targets for hackers because most simply do not have adequate prevention and remediation plans in place.
How you can protect what you've worked so hard to build
Computer Data Security and Network Security
VOS provides a comprehensive and advanced security solution that detects computer and network anomalies in real time. We pair robust intrusion prevention and antimalware solutions with best-in-class encryption tools to ensure an extra layer of network and data protection so your business will always be guarded from intruders.
Business Continuity Planning
Cybercriminals are after one thing: your confidential business data. This is why you need a customized data backup and disaster recovery plan that keeps hackers at bay. We backup your data to multiple data centers, regularly test our recovery process to ensure speedy recovery, and train your employees so they know exactly what to do should a disaster befall your business.
Email / Spam Protection
The easiest way for hackers to infiltrate your computer network is via email. Open even a single malicious link and the next thing you know your server ends up crashing, taking with it all your valuable data. With VOS's Spam Protection solution, you'll be able to work with confidence knowing viruses, malware, and other online threats are filtered and eliminated before they reach your inbox. And with email indexing, flexible search options, and message archiving, your employees will be able to communicate more efficiently, too.
Additional Resources

The Internet Crime Complaint Center provides a convenient platform for reporting suspected internet facilitated criminal activity to the Federal Bureau of Investigation, which will help them develop effective alliances with law enforcement and industry partners.
DHS Cyber Threat Indicator and Defensive Measure Submission System
This web-enabled platform allows you to share cyber threat indicators and defensive measures so that the DHS can raise them with the Federal Government and private sector entities for awareness.
When it comes to cybersecurity, you need utmost certainty